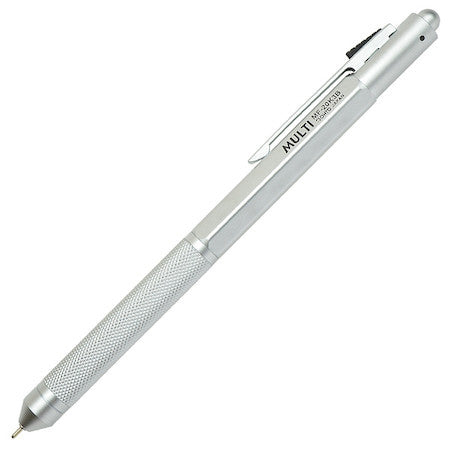 OHTO multi funtion Pen - Silver
A multi-functioning ballpoint pen with two colors and a mechanical pencil option by OHTO.
The smart gravity mechanism of this pen allows you to write in 3 formats. Hold the pen at 45° away from you, rotate the function indicator at the top with the black dot, red dot, or 0.5 facing up. Press down on the top button with the chosen function to write with a 0.7mm ball-point tip in black, red, or a mechanical pencil with 0.5mm lead. Press the button on the clip to retract.
The heavyweight metal body is made of high quality brass, with a hexagonal barrel preventing it from rolling around on the desk. The smart pen also features a textured grip, a pocket clip, and a replaceable eraser underneath the cap. Both ballpoint pens and mechanical pencil are refillable.


Dimensions: (L)5.7" x (Ø)0.4"