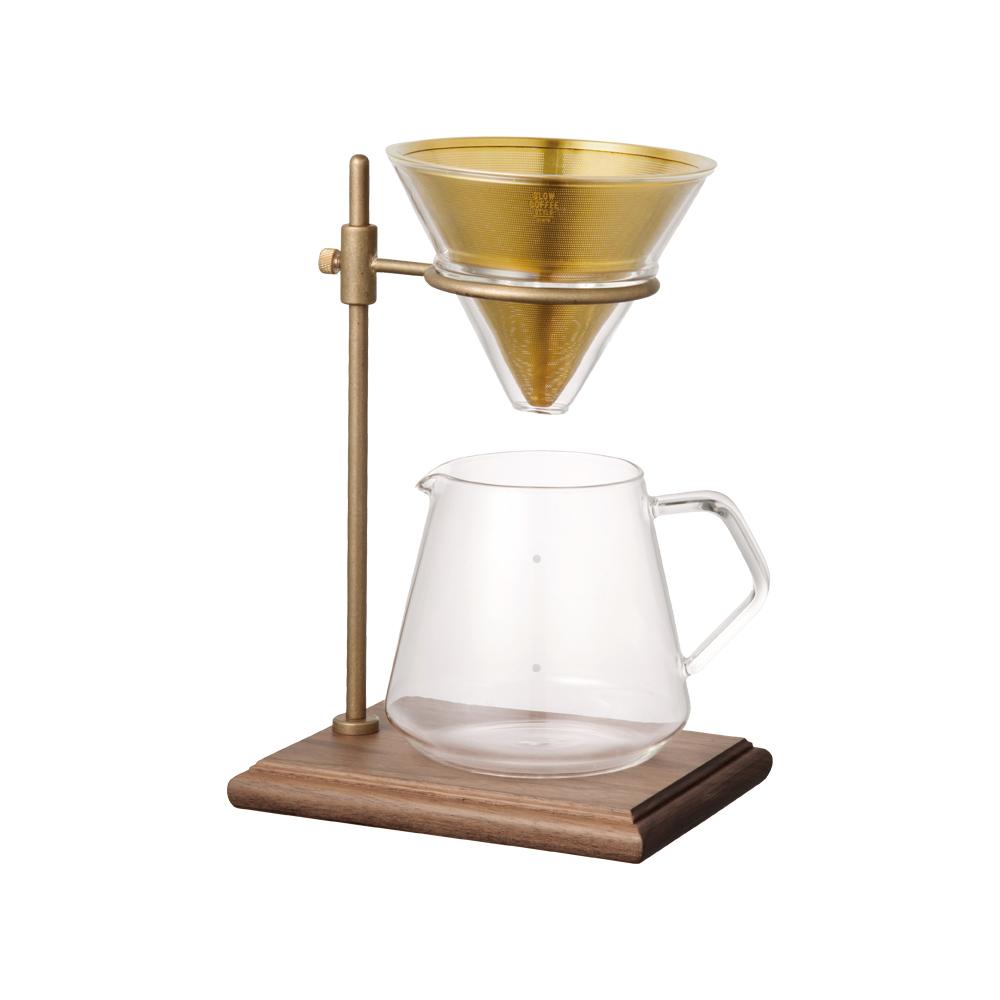 Coffee Brewer Stand set - 4cups
SLOW COFFEE STYLE was born to bring you the joy of a slow, relaxing passage of time with pour over coffee. Organic forms, calm colors, and warm textures are designed to help you unwind. The items integrate well into spaces with a relaxing atmosphere. The collection gives depth to your daily ritual of brewing coffee.
Natural wood (Walnut, urethane coating), Brass, 18-8 Stainless steel, Silicone | Slight differences may occur being handmade. Color and grain of natural wood varies in each item. Do not use in a dishwasher. Do not soak in water. Do not place near open flames. Wipe the surface with dry or tightly wrung out dishcloth when cleaning. Sudden temperature change and humidity may warp or crack the product. Avoid direct sunlight, dry well after use and store in a dry place. Slight scratches, darkening, or dents may be found on brass. Do not leave brass wet as humidity may cause the color to change. With continued use, the color of brass surface will change due to oxidation. To clean the brass, use a commercial metal cleaner and follow its directions. There may be a chance that green rust occurs on brass. However, it does not affect quality. When adjusting the height of the stand, hold the ring while unscrewing the knob.
[Stand] Walnut (Urethane coating), Brass, 18-8 Stainless steel, Silicone
Slight differences may occur being handmade. Color and grain of natural wood varies in each item. Do not use in a dishwasher. Do not soak in water. Do not place near open flames. Wipe the surface with dry or tightly wrung out dishcloth when cleaning. Sudden temperature change and humidity may warp or crack the product. Avoid direct sunlight, dry well after use and store in a dry place. Slight scratches, darkening, or dents may be found on brass. Do not leave brass wet as humidity may cause the color to change. With continued use, the color of brass surface will change due to oxidation. To clean the brass, use a commercial metal cleaner and follow its directions. There may be a chance that green rust occurs on brass. However, it does not affect quality. When adjusting the height of the stand, hold the ring while unscrewing the knob.

[Filter] 18-8 Stainless steel (TiN coating). Dishwasher safe. When using a dishwasher, avoid force and weight applied to the filter. Wash with care. Do not use abrasive cleansers or steel wool. To prevent rust, immediately wash and dry well after use. Store it away from other metals
W165 x D130 x H250 mm
W6.5 x D5.1 x H9.8 in